FREQUENTLY ASKED QUESTIONS
WHAT FILE TYPES DO YOU ACCEPT?
The preferred file type is a high resolution PDF file, with bleed built in, if applicable.
We also accept Jpeg, Tiff, Word, Publisher and PowerPoint documents. We cannot guarantee that Word, Publisher and PowerPoint documents will print properly as they do not always maintain formatting or fonts from computer to computer. Our policy is to always email PDF proofs back to the customer whenever these file types are sent, for approval prior to printing.
HOW DO I BUILD BLEED INTO A FILE?
Bleed is a printing term that is used to describe a document which has images or elements that print to the edge of the page, extending beyond the trim edge and leaving no white margin. When a document has bleed, it must be printed on a larger sheet of paper and then trimmed to size.
The example below shows how a document should be set up with bleed. This is the way you must set up your document if you intend to have graphics that extend all the way to the edges of the cut item.
The example uses a business card, however the same principle and measurements apply to a document of any size.
This does not only pertain to small printed items such as postcards, but larger documents as well. No printers can print right to the edge of a sheet, therefore any standard size prints with bleed must actually be printed on a larger sheet and cut down. For example, an 8.5" x 11" page with bleed must be printed on a larger sheet and then cut to size.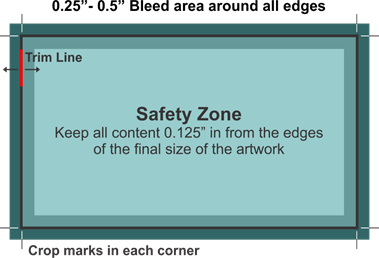 WHAT ARE YOUR TURNAROUND TIMES?
The turnaround times depend on a number of factors including how many orders came in ahead of yours, the quantity of what you are having printed and how much finishing work there is to do.
On average our turnaround times on smaller quantities are as follows:
Business Cards: 1 – 2 business days
Postcards: 1 – 2 business days
Coiling books: 2 – 3 business days
Flyers, Brochures: 1 – 4 business days
Tickets (numbered, perforated): 4 – 5 business days
Posters: 1 – 2 business days
Coroplast and Foam Core Signs: 2 – 4 business days
Rush orders can usually be accommodated, please contact us directly.
OFFSET PRINTING (for large volume print jobs or specialty business cards and postcards): 7 – 10 business days.
WHERE ARE YOU LOCATED?
Our address is 1004 St. Mary's Road, we are located almost directly in between Bishop Grandin and Fermor. Our cross street is Moore Ave. (turns into Sadler Ave. across St. Mary's Road). There is also a Service Canada and Employment Manitoba building across the street from us.
WHAT ARE YOUR HOURS OF OPERATION?
Our hours of operation run from Monday to Friday.
Galaxy Printing:
Full Service: 9:00am – 5:00 pm
Order Pickups: 9:00 am – 5:00 pm
We are not open on the weekends.
HOW DO I ENSURE THAT THE IMAGES IN MY FILE WILL PRINT CLEARLY?
The resolution of an image or picture describes the amount of detail an image holds. The higher the resolution, the more detailed the image is. This detail is generated by pixels, which are the different coloured dots or squares that make up an image. The more pixels there are, the more detailed an image appears to the naked eye. If an image has very few pixels the image will appear to be pixelated, especially when enlarged.
It can be very difficult to gauge the resolution of a file by looking at it on your computer screen. The standard resolution used on most websites is 72dpi (or dots per square inch). This resolution is fine for web viewing, however it will result in a very pixilated, unprofessional looking image when printed. Below is an example of how two images (that look relatively similar on a computer monitor) will look after printing. 300 dpi is the industry standard for printing purposes.